"Gratitude & Mindfulness Meditation Learning Journal"
Gratitude journaling and mindfulness meditation practices have been scientifically researched and documented to decrease anxiety and depression while increasing coping skills to better respond under emotional stress at home, school or work. These practices support an integrated approach to the mind-body-heart connection, boost creativity, enhance student concentration and focus, encourage long term memory retention, and help to improve overall well-being.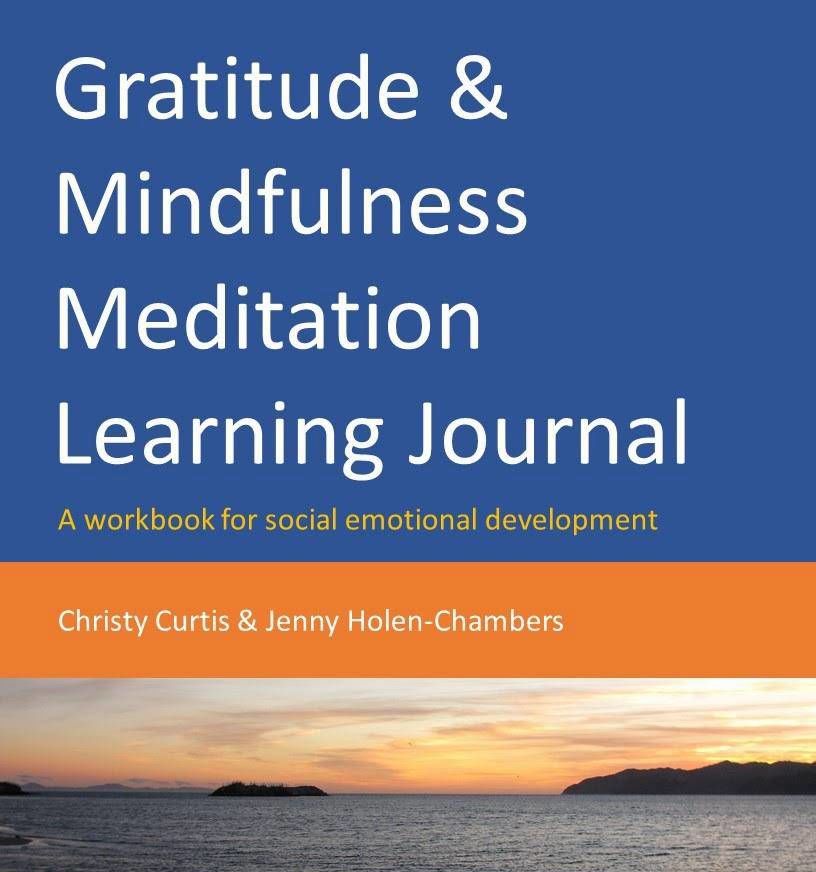 Students will experience and acquire the necessary skills to live a life that is more aware, attentive, kind and compassionate, and have greater intrapersonal and interpersonal well-balance emotional, social and mental connections. The overall benefits of gratitude journaling and practicing mindful meditation are endless, which often result in students generating a sense of humanity and empathy for themselves, each other and for the world. Our goal is to create a welcoming, safe and nurturing environment for all students to be who they are, right here and right now. By taking 5-10 minutes during the week to reflect, practice and relax, teachers and students will develop a personal toolkit of strategies for a new way of learning.
Ultimately, we hope to create a global community to change the way educators offer a learning experience by placing student and teacher well-being first in order to add greater connections to class curriculum. By developing better students, we in turn develop better globally aware citizens.
FREE MINDFULNESS MEDITATION AUDIO DOWNLOAD: Working with Difficult Emotions
Get your copy today to build more gratitude, mindfulness and Social Emotional Wellness in your classroom or home!
Christy Curtis Yoga and Mindfulness Videos
Salute Within ~ Surya Namaskar A (Sun A)
View More
Straw Breathing to bring instant calm to an active mind
View More
Letting GO of Attachments
View More
Salute Within ~ Surya Namaskar A (Sun A)
Straw Breathing to bring instant calm to an active mind
Letting GO of Attachments
Jump Start Your Day with Mindfulness Meditation Tool Kit
View More
"Staying vulnerable is a risk we have to take if we want to experience connection" — Brene Brown
View More
Mindfulness Meditation for Body and Emotion Regulation
View More
Jump Start Your Day with Mindfulness Meditation Tool Kit
"Staying vulnerable is a risk we have to take if we want to experience connection" — Brene Brown
Mindfulness Meditation for Body and Emotion Regulation
Create a Daily Gratitude Practice
View More
Mindfulness for Teachers 101
View More
Fear of Missing Out
View More
Create a Daily Gratitude Practice
Mindfulness for Teachers 101
Isolation? Disconnection? How to Connect during COVID Challenge
View More
Yoga & Mindfulness Flow for Secondary for Secondary Physical Education
View More
Yoga & Mindfulness for Secondary Physical Education: Part II Sun B
View More
Isolation? Disconnection? How to Connect during COVID Challenge
Yoga & Mindfulness Flow for Secondary for Secondary Physical Education
Yoga & Mindfulness for Secondary Physical Education: Part II Sun B